Our Teachers
Our TAGteach™ certified staff consists of highly regarded professional dancers and performing artists, each with exceptional teaching experience. Our teachers cultivate enthusiasm in our students through their own joy in dance and out of their sincere love for children (we TAG, we don't nag!).
Evan Turner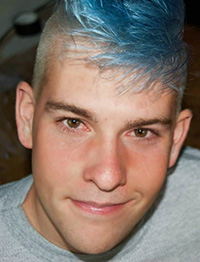 Evan Turner, just off a Norwegian Cruise Line performing tour, is thrilled to be back in Boston. Originally from Windber, Pennsylvania, at a young age, Evan knew he was meant to perform. His first credits include playing a miner's son in the ABC family movie, "The Pennsylvania Miner's Story".
Evan began dancing in color guard in 2002 with the Windber area school district. As he moved into high school, he also became part of the theatre program and danced at A Dancer's Haven dance studio his senior year. After graduating, he joined the Cadets in 2009 and then Blessed Sacrament Color Guard in 2010 shortly after. Currently in his seventh season with Blessed Sacrament, he has had the pleasure of participating at both WGI and DCI in the world class level. He performed with the Cadets for four seasons where he received gold and bronze medals at DCI, and Blessed Sacrament for six consecutive finals.
It was through Cadets he met the director of Acros Dance based out of Santa Fe, New Mexico. With Acros Dance, Evan danced in a few company pieces and also had the honor of performing at a choreography festival in Palm Springs, California.
Evan was a 2013 graduate of UArts in Philadelphia where he received his Bachelors of Fine Arts in Modern Dance Performance. That summer he became part of the Boston Crusaders Color Guard staff where he grew as a teacher and choreographer.
In 2014, Evan joined Contemporarily Out of Order and began to teach at several studios in the Boston and New Hampshire areas; A Dancers Dream, Gate City Ballet, House Of Dance, Greater Boston School Of Dance.
Evan is currently working to grow in many aspects of being an artist; through performing and practicing numerous different genres of dance, Acro/tumbling, and visual arts.