A program built for fun!
SUMMER 2019!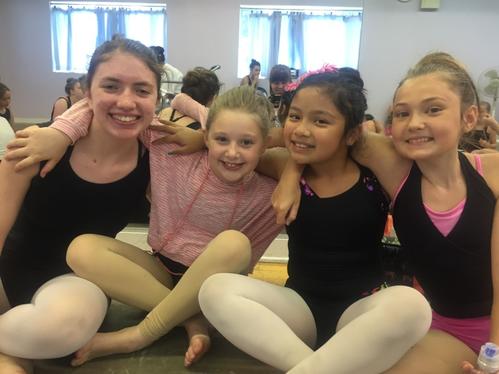 Vacation FUN Center:
Cost:
Each Special Events runs 4 hours:
Select Any Single Summer Special Event in the Series = $40
Select Full Monday - Thursday in same Week (for the same child) = $150
Snacks & Lunch available to order/purchase at drop-off each event day - additional fees apply.
Pre-School, Primary, and Mini 6 week series:
Cost:
30 minute a la carte classes:
Select Any Single Class per week throughout this series = $54
Select Any Two Classes per week (for the same child) throughout this series =$90
Select Any Three Classes per week (for the same child) throughout this series = $130
Select Any Four Classes per week (for the same child) throughout this series = $166
60 minute classes:
Select Mermaid ACRObatics 1 class/wk = 6 week Class Series = $100 (includes tail!)
Select Cecchetti Ballet 1 class/wk = 6 week Class Series = $90
ACRO/CONTORTION 6 week series:
Cost:
FULL Acro Series = 2x/wk = a total of 12 ninety minutes classes. Cost: $276
HALF Acro Series = you pick a total of 6 ninety minute classes. Cost: $144
DROP-IN Acro = single 90 min class. Cost: $25 per class
BALLET BOOT CAMP 6 week series:
Cost:
1 ninety minute class/wk = 6 week Class Series = $144
DROP-IN = single 90 min class. $25 per class
DANCE DAYZ 2 week camp-styled:
2 Weeks 1/2 Days = 9:00am - 2:00pm = a total of 10 days = $575
2 Weeks Full Days = 9:00am - 4:00pm = a total of 10 days = $725
Single Week 1/2 Day = 9:00am - 2:00pm = a total of 5 days = $335
Single Week Full Day = 9:00am - 4:00pm = a total of 5 days = $410
Add a single extended day (til 4:00pm) = $20
ADULT BALLET 6 week series:
Cost:
1 sixty minute class/wk = 6 week Class Series = $96
DROP-IN = single 60 min class. $20 per class
ADULT TAP 5 week series:
Cost:
1 seventy-five minute class/wk = 5 week Class Series = $96
DROP-IN = single 75 min class. $23 per class