ENRICHMENT Ages 6-Teen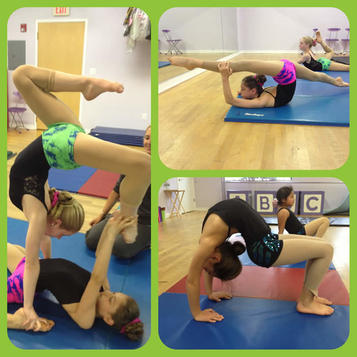 ACROTACTICS
Ages 6 thru 18 (Level I = 55 min, Levels II & III = 85 min)
These classes are leveled. Please speak with our director for placement.
Flip out with our rockin' acro program! Our unique approach gleans the best attributes of traditional acrobatic, contortion, and tumbling training to allow our dancers to increase stretch, strength, and stamina while gaining balance, control, and the technical tactics of proper form to approach new skills safely— All making the mastery of fun and fabulous tumbling/contortion tricks attainable. The best part? We turn these creative skills into unique dances that will wow your friends and family!
Required Footwear = Barefoot (See required dancewear here)
Tuesdays: 3:00pm (Level I = typically ages 6-8), 3:00pm (Level II = typically ages 7-9), 4:30pm (Level III = typically ages 10-Teen)
Prefer another day? Grab 6 friends and we'll open a class for you [7 student minimum]. Semi-Private classes are also available by appointment - additional fees apply
HIP HOP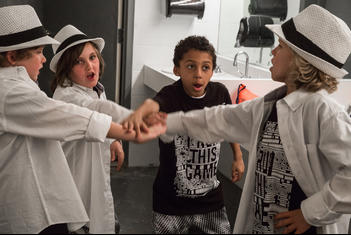 Ages 7-Teen (Junior, Tween & Teen = 55 min)
This high energy 80's street style has taken the world by storm (again!) and is now firmly ingrained in the international dance vernacular. These dynamic classes present classic and creative moves to encourage dancers to develop their own unique swagger! Do rest assured, classes are always presented with a very cool yet very kid/family friendly selection of music and movement. Required Footwear = sneakers or combat boots (See required dancewear here) Tues 4:30pm (Mini/Junior), Tues 6:00pm (Twn/Teen)
TAP
Ages 9-18 (Junior & Teen = 55 min).
Tap is a blast! Beginner tappers work basic rhythmic patterns in combinations to gain self-confidence and control. Intermediate tappers work a combination of strength and technical drills to build the precision necessary for this uniquely American-born dance style to explode. Advanced tappers work more intricate rhythmic patterns to add speed and spark! Required Footwear: Revolution Black Oxford tap shoes. (See required dancewear here)
Mon 5:00pm (Junior), Mon 6:30pm (Teen)
JAZZ
Ages 9-18 (Junior & Teen = 55 min)
Explore funk, hip hop, Broadway, lyrical, contemporary, kick line, and your own choreography! A solid warm up underscores the importance of technique and alignment. Required Footwear = Revolution split-sole jazz boots >> Girls=tan, Boys=black (See required dancewear here)
Wed 5:00 (Junior), Wed 6:30pm (Teen)
CECCHETTI GRADED BALLET (BalletEx):
Ages 6-18 (Mini = 55 min, Junior = 55 min, Tween/Teen = 90 min/combined with Ballet Lab)
Known for attention to purity of form and line, the syllabus of Enrico Cecchetti guides dancers through light and lively exercises that build poise, strength, control, and a love of classical ballet unlike any other. Dancers registered for this course are exam eligible! Learn more here. Non-Performance. Required Footwear = Revolution leather split-sole ballet slippers >> Girls=pink, Boys=black (See required dancewear here)
Wed 3:00pm (Mini = P1), Mon 3:30pm (Junior = P3), Mon 5:30pm (Twn/Teen = G1), Wed 5:30pm (Twn/Teen = G2)
MINI & JUNIOR Ballet Rehearsal (CHxp) combine this weekly Rehearsal with our Mini or Junior Ballet Ex class listed above and joyously prepare for community and recital performances! Wed 4:30pm (25 mins)
BALLET LAB (BLab)
Ages 11-18 (55 min)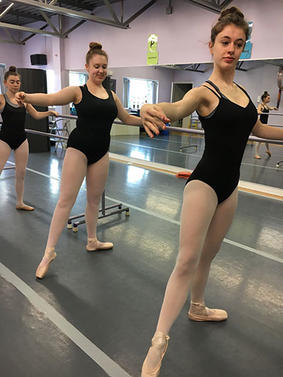 Offers the classical self-discipline of the art form introduced with a jovial and progressive style. Our upper levels add intricate footwork and choreography with a determined focus on gaining strength and control. These levels work at a much more determined pace in an effort to prepare dancers for collegiate and professional programs. To achieve that goal, these classes must be combined with a complete and comprehensive dance schedule. You'll have fun, but you'll work harder than you ever have before! Performance Eligible Required Footwear = Revolution leather split-sole ballet slippers >> Girls=pink, Boys=black (See required dancewear here)
Mon 6:00pm , Wed 6:00pm
PRE-POINTE & POINTE
Ages 10–teen (45 min)
Strengthening barre exercises enable each dancer to work at her own pace to attain the "brass ring" of children's ballet: the Pointe shoe. By audition/invitation. Be sure to let your teachers and director know if Pointe is your goal and ask for our complete outline of Pointe requirements.
Mon 5:00pm AND Wed 5:00pm