Keeping Summer Cool and your Dancer Delighted
SUMMER 2019! This 2 week camp styled program begins July 15th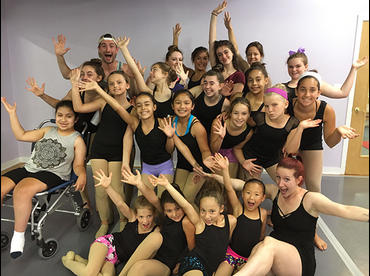 Dance Dayz (1/2 day)
Entering Grades 1 –12, 9 am–2 pm. Cost: $575
Daily classes & workshops in a wide range of styles including: Ballet, Tap, Jazz, Acro, Hip Hop, Cultural, Modern, Folk, etc, etc, etc AND a daily choreography workshop (a fav among our alumni!). Weekdays 7/15–26 [Performance Teams: Each Dance Day completed through choreo workshop counts as 4 hours toward your Summer Technique hour requirement]
Dance Dayz (full)
Entering Grades 1 –12, 9 am–4 pm. Cost: $725
A full day version of the above includes daily outdoor activities (weather permitting). Weekdays 7/15–26 [Performance Teams: Each Dance Day completed counts as 3 hours toward your Summer Technique hour requirement]
Teacher's Apprentice Program (S-TAP)
Entering Grades 9+, 9 am–4 pm. Cost: $575
Apprentices take all classes/workshops along with their age/level appropriate dancemates. While assisting teachers and directors, S-TAPers learn class management skills and techniques. Limited spaces available. Written essay applications must be remitted by May 15, 2019. Weekdays 7/15–26
DROP-INS WELCOME! Dance Dayz Technique Classes
We welcome Drop-In dancers to join us for any of our Dance Dayz technique classes. Have fun, Learn a ton! We're all but confirmed with our guest teacher's schedule so do Come back to this link Soon to Find a specific/full Dance Dayz class schedule and Rate Sheet!.
Extended hours may be arranged by contacting Kat: kat@adancersdream.net.