Our Teachers
Our TAGteach™ certified staff consists of highly regarded professional dancers and performing artists, each with exceptional teaching experience. Our teachers cultivate enthusiasm in our students through their own joy in dance and out of their sincere love for children (we TAG, we don't nag!).
Summer Teachers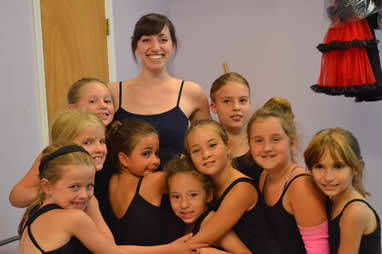 Our Summers are full of fabulous Guest and Staff Teachers. Read on to learn a bit about them so your dancers can learn a lot from them!
Straight off his Excel In Motion teaching tour, Brian Henninger has been joined by Broadway Dance Center's Neil Schwartz and Josepth & The Amazing Technicolor Dream tour cast member, Sasha Iman to present their beyond popular Hip Hop fundamentals workshop. More Hip Hop was in store with Tony Tucker (BoSoma Dance) while guest Ballet teachers Shawn Mahoney (Twlya Tharp, Emerson Faculty), Tina Cassidy (AD, Northern Ballet Dance Theatre), and Olga Marchenko (Moscow City Ballet) ensured our classical game was on. In the Acro/Contortion department, former ranked US Jr National Team member Ada Moisescu had our dancers in all kinds of great shape(s). As well, our dancers jammed with a slew of the finest rhythm tap teachers in the New England area including Clare O'Donell (founder, O'D n'Tap), Sean Shizz Fielder (founder, Boston Tap Company), Dan Mitra (Broadway Dance Center). Modern and Contemporary classes were plentiful with incredible teachers like Joe Gonazlez (Prometheus, co-director Jo-Me' Dance), Tabitha Liversidge (Urbanity & Deadfall Dance), Chantal Doucett (Urbanity), Susan Edson (co-director Dance Studio of Wakefield), and Wendy O'Byrne (founding direcor Contemporarily Out of Order). Also with us often are studio favorites Shaina Schwartz (Tap, Modern/Contemporary), Katie Proulx (Ballet, Theatre Dance), Kai Le (Hip Hop), KelliAnn Nave (Jazz & Theatre Dance), Ann Donohue (Ballet, Modern/Contemporary), Amanda Mentuck (Tumbling), Kelsey Nestor (Modern/Contemporary) and Melissa Powers (Jazz, Tap).
You can expect this season to include more of the same! Additionally, and because we love experiencing diverse styles, Cultural Folk Dancing will continue to be explored as we welcome a selection of guest teachers from far and wide. And let's not forget our Alumni! Many of your favorites will be back to the studio fresh from their worldly dance adventures to share their experiences and inspire their studio sisters and brothers.
Keep checking back as our list of confirmed guest teachers & styles grows!